How did Jesus want His followers to use the Lord's Prayer? 
Someone recently asked my husband why our local church doesn't repeat the Lord's Prayer as part of our worship. I confess, inwardly, I rolled my self-righteous eyes. In my mind, repeating the Lord's Prayer as liturgy misses the point of Jesus' model prayer. Outward appearances and rote traditions were the very thing Jesus preached against in the Sermon on the Mount. God cares more about our attitudes and our inner thoughts than he does about duty-bound, mindless actions. The Lord's Prayer to be a series of talking points that can be connected to events in our everyday life. Jesus wanted his followers to understand that prayer is personal and meaningful and that God the Father is approachable.
If you belong to a church who does include the Lord's Prayer in their worship and you are bristling at this point, look at the other side of the equation with me. Some of us, so adamant that we not be sucked into a tradition, tend to ignore or treat this wonderful prayer too casually. As I said above, the phrases of the prayer are talking points, guidelines of how to talk to Abba Father. As I construct my own original prayers, Jesus' words can and should become prompts for what I say to God.
As I grow in my relationship with God, I'm slowly learning the significance of what He tells me to share with Him as my Heavenly Father. This hit me anew while I cooked supper one evening this week.
The vast majority of Americans can't appreciate Jesus' line, Give us this day our daily bread. Our refrigerators and cupboards are stuffed; if we run out of our personal preferences, grocery stores and restaurants aren't too far away. We grumble if we have to eat a certain food more than two meals in a row and think it's a major catastrophe if we run out of ketchup or salad dressing. As I grow older, I've learned this phrase is applicable to more than whether or not I have a Mother Hubbard cupboard.
My husband and I both have diet restrictions. Our small town only has three restaurants that serve a limited menu. I don't drive so going to the grocery store or a restaurant is not a viable option. On this particular day, I was exhausted from cleaning my refrigerator and all the messy jobs it led to. The last thing I wanted to do was to cook. But my husband's back hurt from helping me with said refrigerator. Even going to the convenience store for pizza was out of the question.
I gripped my stove handle. "Lord, will you give me the wisdom to know what to cook and the strength to do it?' Give us this day our daily bread, flashed through my mind. Ah! I was praying the way Jesus told me to pray. His point in that talking point was that I needed to express my dependence on Him for even the small every day stuff. Praying for strength to make a meal was exactly the kind of prayer He had in mind.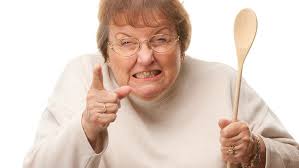 Another phrase from the Lord's Prayer quickly followed suit. Deliver us from evil. Where did that come from? Yes, that was a good thing to pray too but why did the Holy Spirit think it necessary to remind me of that at that particular moment?
I have another confession. I was frustrated. No, I was annoyed. Don't forget grumpy. When did I ever get a break? Couldn't this man who claimed to be my spouse look beyond his own pain level to see his wife needed a break too? I would have loved to set down the skillet a little extra hard, not speak during the meal, or shoot some well executed verbal slugs to let him know I was not happy about having to cook.
Deliver us from evil. Yes, that response would have been evil. Jesus' prayer instructs me that I can ask God for help when I feel grumpy or extra zippy with my nasty come-backs. How do I avoid copping a bad attitude? Ask God for help. Ask God to deliver me from following through with my violent fantasies. Ask God to deliver me from even pursuing any form of evil in thought, word, or deed.
I ended my prayer time over my hot skillet by confirming my life commitment to my Heavenly Father. Thy will be done on earth just as it is in Heaven. Following Him was more important than anything else, including what I ate or whether I got my way. i wanted Him to be the Supreme Ruler of my life even as He was in Heaven.
Whoops. I didn't pray the whole Lord's Prayer. I skipped a few lines. I didn't pray it in order.
I don't think Jesus minded one bit. That wasn't His intention. No brownie points for stellar mental recall in His book of grace. But I think if my church did repeat the Lord's Prayer next Sunday, I would say it with renewed reverence and perhaps with a tear in the corner of my eye. That's because I'd learned the spirit behind the words and how to apply those while standing in front of a hot stove. I became, like James encourages his readers to be, a "doer of the word." I connected and made it my own. That's what Jesus wants us to do.
How have you applied the talking points of the Lord's Prayer to your life?