"He [God] will cover you with his feathers and under his wings you will find refuge; his faithfulness will be your shield and rampart." – Psalm 91:4
My friend Barb got that reminder from the Lord in an amazing way this past week
In a recent blog post (Needed: Harvest Workers), I shared the unexpected journey Barb and Evert, missionaries with Pioneer Bible Translators to Western Africa, have had to take when doctors discovered Evert had an aggressive from of brain cancer. Right now, Barb, Evert, and their two beautiful daughters are stateside while doctors work out a treatment plan. The Lord, according to Barb's frequent emails, has provided an amazing, caring team of doctors and God has sustained them emotionally and spiritually through this season of the unknown.
In spite of their joyous, upbeat, and tenacious trust in God, they still face a mountain of challenges including the day to day things common to all of us. Yet God's provision for them has been simply amazing. In a more candid moment, Barb shared one of their latest concerns. With her permission, I'd like to tell you how well God is taking care of them.
About 3 nights ago Evert woke up in the morning with a stiff neck, probably from opening the windows at night to enjoy the cool air. So the next night we closed his side and left my side open. It was still cool during the night and he woke up the next morning with his back side on the right feeling strained. What you feel when you wrench your back. As the evening progressed at a friend's house, Evert was becoming more and more uncomfortable. So we headed home and he took some Tylenol PM and went to bed. He woke up Sunday morning feeling rested and pretty good. Sunday evening took a turn for the worse. The pain was too much.
While the event above was going on, I was bogged down during the day trying hard to take care of a lot of financial details. I grew up being very conscious of every penny I had. I remember when I was in High School that I wanted to get a really good glove to play softball with. It took me several months of cleaning houses, mowing lawns, and collecting papers for recycling to earn what I needed. I'm the one in our family that keeps track of our finances. Yes, it can stress me out if I see ends not meeting. And, yes, I was getting a little stressed out.
Back to Evert: We decided on Sunday night that we should take him to an urgent care place. I called a friend and asked her to pray and where she might suggest to go. She mentioned a place called CareNow. I looked it up on the internet and there was one just 4 miles from where we are living. We hopped in the car and arrived around 6:30pm. The lady at the desk told us the potential costs and that we would have to pay in full as we hadn't met our deductible yet. OK. We gotta do what we gotta do. So, after 2 hours, we got into a room and a nurse asked lots of questions. During the conversation, we mentioned that we work in West Africa and she asked where and what we do. So, we told her. She thanked us for our work and service! That was nice.
We waited about another half hour and the Doctor came in. She said, "I hear you're missionaries! Where have you been serving?" We told her and the conversation went on. Thankfully, the only thing she found wrong with Evert was a strained back after looking at 2 x-rays. She prescribed 3 medications and stood up to leave. The she said, "Did you know that CareNow was formed by Christians and that they wanted to provide quality health care to people for the Glory of God?" WOW! That has been our mantra as we've begun this New Journey.
We shook hands and that was that. We went out to the front desk to pay our bill. The lady there was busy preparing things and I had my credit card ready. She gave me the bill and all that was there was "COURTESY COUPON" $0.00. WHAT???
The doctor paid our bill! I cried. THEN, we drove to a Walgreen's whose pharmacy was open until 12am. Gave the 3 prescriptions and waited 20 minutes. Went up for the consultation and to pay the bill, and they handed us a receipt that said PAID $0.00!!!
The LORD spoke loudly to me, "Barb, don't worry about finances. I'm in charge of taking care of all of you."
Taking refuge in the shadow of His wings – Barb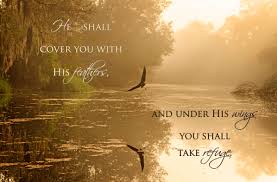 AMEN! Would you put Barb and Evert on your prayer list, that God continue to shelter them in the shadow of His wings and that whatever happens on this journey might be used to proclaim the Glory of God?