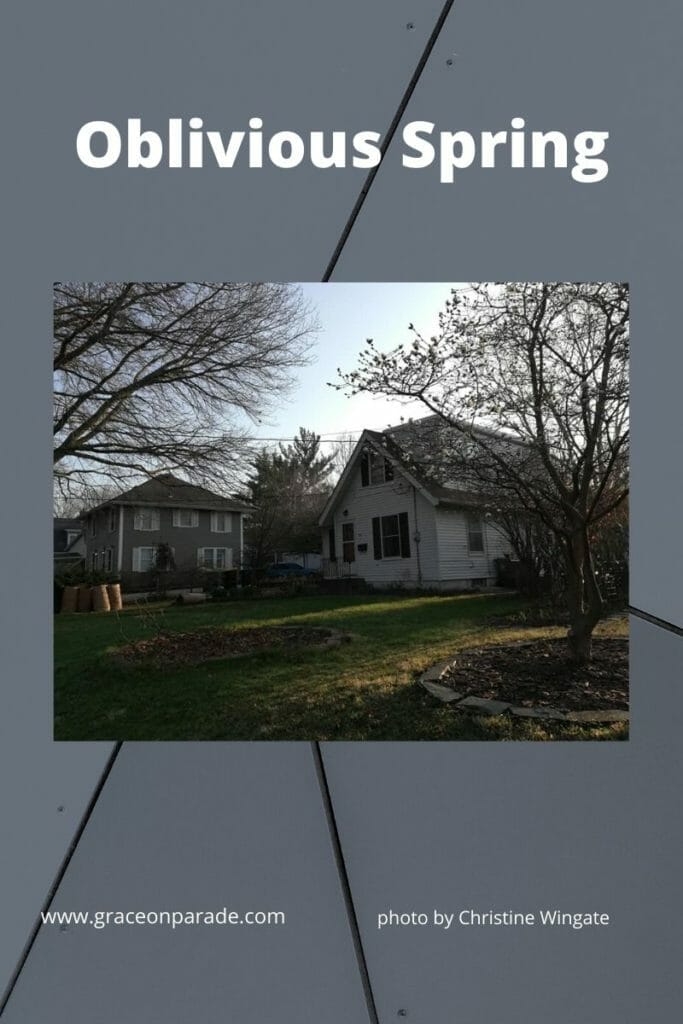 What did I see today? I saw that an Oblivious Spring ignored the harsh realities of a winter weary world and came anyway. That's the message Springtime delivered to me this year.
I've said it too many times. The year 2019 was hard. Our family was ready for a break. 2020, its calendar marked with coming blessings, would be our year of clarity and certainty. Happy days are here again, we promised each other through smiles. A coming grandbaby. A promised book contract. An exciting overseas trip for our youngest daughter.
I even arrogantly quoted to my family a well known Bible verse spoken by the prophet Joel:
"I will repay you for the years the locusts have eaten—the great locust and the young locust, the other locusts and the locust swarm–my great army that I sent among you."

Joel 2:25, NIV
Then COVID-19 struck.
The entire world entered a season of uncertainty. So much for a year to coast! And I, like everyone else, got swept into centering my spirit's focal point on the escalating cases of COVID-19 and the squeeze of government restrictions. It was going to be a bad year after all.
I've discovered since then that I made four bad assumptions about the world turn of events.
I assumed my troubles had worn me down.
Could I go through another year like last year? I'd barely recovered.
The truth is that last year was a season of strengthening. Our family and church family now know from personal experience what it's like to walk through seasons of uncertainty. God used those tenuous moments to prepare us for the pandemic. We aren't feeling as much fear and anxiety because, hey, we've been through these tough, anxious, uncertain moments before and we know God will be faithful to bring us through the mess.
Is that true for you? How has God prepared and strengthened you for the current crisis?
I assumed the Coronavirus would keep me from moving forward.
Only if I allow it to. It doesn't have to stop me or you. It merely changes our direction.
One friend wrote:
"We have more opportunity to realize God makes us stronger than we ever imagine or wanted. May we stand vigilant in all this."
In a sense, 2019 was the training session and 2020 was the test: how well had we learned the lessons of suffering? I and those who walked last year's difficult path were already fitted with coping mechanisms on how to handle the dangers of pestilence and the challenges of obstacles.
As we face new challenges, we keep reminding ourselves and those who express fear, doubt, and worry, to us "We're going to get through this."
Some days, it's hard to keep moving forward. The restrictions lure us to believe we have to sit at home, fold our hands, and whither away into nothingness.
But think of all the things we can do:
Get outside to garden or walk.
Listen to an online church service.
Call a friend on the phone to pray or sing a praise chorus together.
Make plans for what you will accomplish in your job and ministry once the restrictions are lifted.
Use the free time to get the stuff done that you never have time to do. One day care center in Kentucky is using their closed time to deep clean the center and refresh their program offerings.
Catch up on your rest so you are refreshed and ready to go at the time of reentry.
Most of all, determine to not allow the bad events of our world stop you from doing what God calls you to do. If you encounter road blocks, set your jaw and find a detour.
I assumed the Coronavirus would stifle my witness.
On the contrary, I have a message I can now share with an audience who is more open to hearing what I've learned from my own walk through the valley of shadows. God hasn't allowed my ministry or your ministry to be stifled at all. He's moved us into position where we can actually be more effective.
I'm reminded of a story I read in the book, Jesus Freaks. Christians rejoiced when they were put in prison. Other prisoners and guards were a captive audience. One man was offered his freedom but asked if he could serve out his prison term because he had such a great ministry going!
Change of direction may require us to alter our choice of strategy, resources, and methods. Change is hard! But if we truly want to have impact on our world for Jesus, we'll revise our strategy so we can confidently share the hope that is within us.
I assumed there are seasons of bad and seasons of good. They can't happen at the same time.
I had interpreted Joel 2:25 badly. I had applied it to mean God would give me a break from my troubles. The next verse does reflect that God will replenish our poverty with plenty:
You will have plenty to eat, until you are full, and you will praise the name of the Lord your God, who has worked wonders for you; never again will my people be shamed.

Joel 2:26, NIV
God had already done that for our family! Despite COVID-19, our blessings and promises were still there. I have a book contract. Grandbaby is here and beautiful. We're trusting God to open other exciting possibilities to replace my youngest daughter's summer plans.
Like threatening storm clouds that obscure the sun, the bad events try to fool us by covering up the good, luring us to believe all is bad. Wrong perception. The good is still there; we just need to open our eyes and focus on it rather than on the troubles.
The good and beautiful that I talk about so often on What I Saw Today? Nothing has changed
The sun still shines
The birds still sing
I have food on my table
Our church building still stands
There will always be springtime
Good is still passed forward, now more than ever before!
God Is Still In Control
I love the phrase Youngest Daughter coined – Oblivious Spring. Somehow Spring, the birds, and the sun didn't get the memo that there is a quarantine on Earth. They still come out to make the earth beautiful and brighten our day. Nothing stops them from doing what they do best to praise their Creator.
Nothing should stop us either. God is still in control and He will accomplish His plans no matter what is happening on the earth.
What good and beautiful things do you see? What good is happening in your life?
For more What I Saw Today stories, check out my other blog, What I Saw Today.
Would you like to share your sightings of Spring and other parts of Creation that remind us of God's loving control over this world? Come join our What I Saw Today Facebook group page.