Peanut Butter. It's a staple in 90% of American pantries. It is such a stock item that someone determined that November should be hailed as Peanut Butter month.
Most people, says one website, stuff peanut butter into a sandwich. Peanut butter and jelly sandwiches have been a classic lunch box resident probably since someone came up with either the lunch box or the sandwich. Wikipedia says that the average American will have eaten over 2,500 PB&J sandwiches by the time they graduate from high school. Peanut butter was invented in 1895 and it didn't take long for a recipe for peanut butter and jelly sandwiches to be published by the Boston Cooking School Magazine in 1901.
I'm not a great fan of peanut butter but when my girls were little, peanut butter seemed to always crowd its way on to my shopping list almost every week. While my youngest daughter still loves peanut butter on toast in the morning (she begged us to send her jars of the stuff when she lived in Eastern Europe), peanut butter is a wonderfully multi-purpose food. There's peanut butter cookies and peanut butter fudge, no-bake cookies and Puppy Chow. I've seen recipes for Peanut Butter Chicken and the kids in my day care class loved it when I brought in edible peanut butter play dough.
Peanut butter is versatile, economical, nutritious, and has a long shelf life. What more could you ask for from a food?
Gretchen DeVoe and the workers at Lifeline Christian Mission have one more idea. They use peanut butter to share the love and grace of Jesus to the world's neediest children.
Gretchen and Bob DeVoe started Lifeline Christian Mission in 1980 to meet the needs of children primarily in the country of Haiti. Wanting to find a way to get good, nutritious food into the bellies of the undernourished children they served in the schools and toddler and infant programs, Gretchen started the peanut butter ministry in 2001. Of all the different countries Lifeline serves, Haiti was the most needy and, since the Haitian government recognizes Lifeline, they are able to ship in the peanut butter without incurring any duty tax. Finally, as is true in many parts of the world as my daughter discovered, peanut butter is not readily available in Haiti It's easy to box up and ship, and, as I've already mentioned, packs a big nutritional punch in an easy to store jar.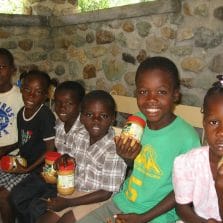 Since 2002, Lifeline has collected over 350,000 jars of peanut butter from ordinary people to feed the malnourished bellies of Haitian children.
Here's how the program works. Churches and other groups are asked to donate jars of peanut butter (16-18 ounce jars are preferred) with a quarter taped to the lid. The jars are prepared for shipping at Lifeline's headquarters in Columbus, Ohio. When the shipment reaches Haiti, They distribute the peanut butter to children in their school, in the orphanage and to the parents of children in their infant and toddler program. Gretchen says that they could use 100,000 jars of peanut butter a year.
I love this program. It's something anyone can do. Two different churches where my husband and I have served have been involved in collecting jars of peanut butter. My daughter's campus ministry group at Ohio State has collected jars and volunteered to help pack the peanut butter. You don't always have to ship the peanut butter to Ohio. Find someone who is traveling through Columbus, or drop the peanut butter off at a Christian convention where Lifeline is an exhibitor or a church where a Lifeliner will be speaking.
This is a project that people even outside your church will be willing to support. It makes a great service project for kids – peanut butter is something every kid understands and it's inexpensive enough that a child can afford to buy a jar out of his or her own allowance. If you have a large extended family, consider suggesting everyone bring a jar of their favorite brand to your Thanksgiving or Christmas celebration then give the jars as a family gift to Lifeline. Lifeline's website notes that you don't have to do this only during the holiday season; they ship the peanut butter to Haiti all year long.
What is amazing to me is that our God is even more versatile. He can even use something as simple as a jar of peanut butter to reach people who desperately need to hear His saving message.
For information on how you can be involved in the peanut butter ministry, click here.
God can use something as simple as peanut butter to reach people who need His love. Tweet this.
Want a great recipe for Peanut Butter Cookies? Tweet this.
Want to make some Peanut Butter Cookies for someone who needs an extra spoonful of encouragement? Here's my favorite recipe. Make them with someone you love. And, when you go to the store to buy peanut butter, remember to pick up an extra jar for Lifeline.
PEANUT BUTTER COOKIES
1/2 c shortening
1/2 c peanut butter
1/2 c sugar
1/2 c brown sugar
1 egg
1 1/4 c flour
1/2 tsp baking power
3/4 tsp soda
1/4 tsp salt
Mix shortening, peanut butter, sugars and egg together; blend well. Mix together flour, baking powder, soda, and salt. Add to dry ingredients and mix well. Chill dough. Roll into balls the size of large walnuts. Place 3″ apart on a lightly greased baking sheet. Flatten in a criss-cross pattern with a fork dipped in sugar (I like to use my meat tenderizer mallet.) Bake in a 375 degree oven for 10-12 minutes until set but not hard. Let set on cookie sheet for 2 minutes before removing to a cooling rack.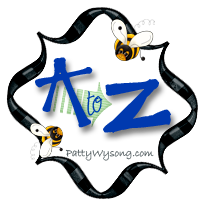 It's Blog Hop Friday.  What are other bloggers saying about the letter P?