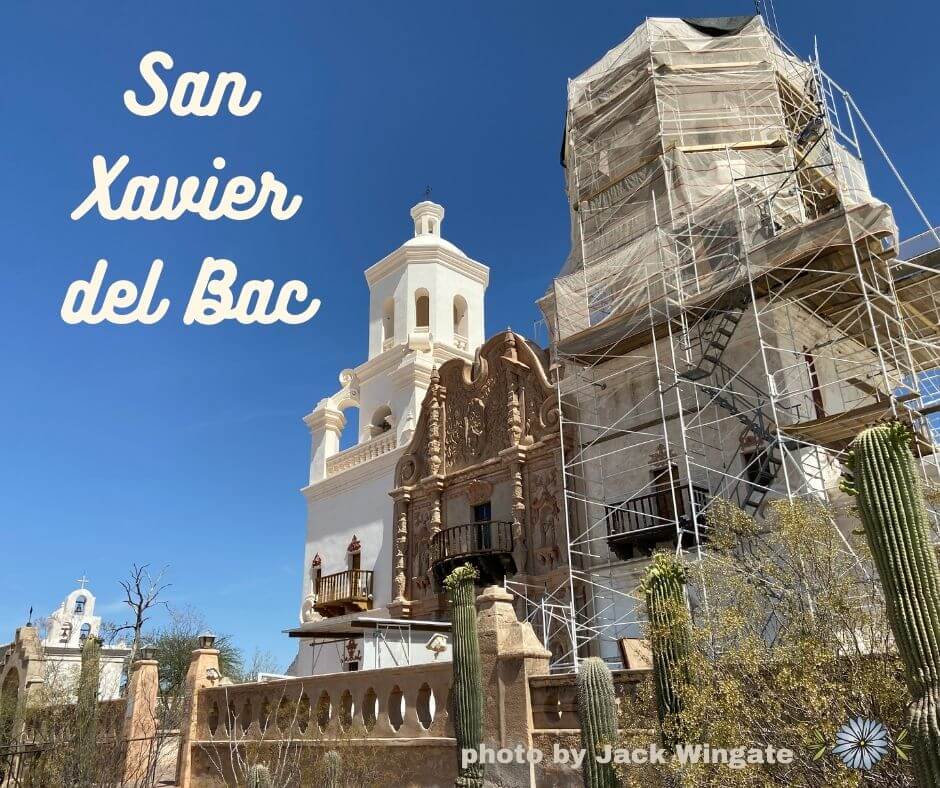 I came to San Xavier, ready to see new things. What I saw was not what I expected to see.
Since I've moved back to my hometown of Tucson, Arizona, I've had a bucket list of second look locations that I wanted to see with my Better Than Ever vision. The mission church of San Xavier del Bac was high on the list. When my family proposed a trip to this beautiful mission church built in the 1790's, I was ready to go.
I had it all planned. I would see with new eyes the beautiful façade, the unfinished East Tower, and the renovated murals. My husband would film me doing another "What I Saw Today" YouTube video. This video, however, wouldn't be extemporaneous; it would step beyond my normal prattle about "Guess What I Saw Today." I planned to tell my viewers about that incomplete tower and compare my still incomplete vision to our rough draft lives where we won't experience completeness until Heaven's side of eternity.
The video didn't happen.
While the unfinished tower is a story in itself – builders simply ran out of money and the asymmetrical towers lend a unique charm to the church's architecture—that day, the East Tower was ensconced in scaffolding. I lost my nerve. It wasn't' the same. It wasn't picture pretty and would take too much explaining on video about what was happening. With the distraction of my family around me, the growing heat of the day, and my 85-year-old mother's fading energy, I couldn't think of a work around.
I gave up.
Deflated, I meandered toward the door leading to the cool interior of the sanctuary. "Ok God, I want to redeem this trip. What's the story YOU want me to see in my visit to San Xavier?" I prayed.
I trailed after my family, taking in the new sights of what I could now see. More details on the sculptures, nicks and blemishes in the whitewash that covered the outside, color, light, and details on the newly cleaned frescas. But my excitement was gone.
Because of COVID restrictions, we could only stand at the back of the church. More frustration. I whipped out my cell phone to take pictures and to use the camera's zoom feature to better see the front of the church. My enthusiasm flickered into a small flame. How fun to see new things. What beautiful architecture. What a wonderful history. What a fantastic historical treasure.
Then the story happened. It was a story God needed me to hear.
Out of the peripheral vision of my weaker eye, I saw a man stand beside me, his arms lifted in prayer. He stood as still as one of the statues gracing the chancelry. Then he lowered his arms and put his palms together below his chin. The arms went up. Then he knelt, then stood again.
Ashamed of my tourist mentality, I slipped my phone into my purse and bowed my head first out of respect for the worshiper, then reverence for the one who deserved my worship.
The purpose behind San Xavier.
San Xavier is a marvelous attraction. But it is first and foremost a church. It is a place where people come to find serenity, to seek God and the peace He has to offer. Its majestic, graceful white structure rises out of the desert's harsh landscape, reminding pilgrims that peace is possible even when circumstances want to suck the very life out of you.
It is so easy to become enamored with the exteriors of life. To focus on the beauty rather than the source of the beauty. To ponder man's creation rather than man's Creator. To analyze the thing before us and forget the purpose for its existence. The externals of worship, the programs and property of the church blur our vision as to the real purpose of why we are there in the first place.
Church buildings can be beautiful. Music can be inspiring. But they, like so many other things, are simply a tool, a worship aid, that draws us toward the honor of a God who cannot be contained within the walls of a Temple or church building (2 Chronicles 6:18).
San Xavier is great and wonderful. But God is greater and more wonderful.
The man beside me left, but before he went outside, he knelt once more and made the sign of the cross over himself, his head bowed to his chest. Making the sign of the cross is not my tradition, yet how could I miss his humble reverence? I could have dismissed his actions and picked apart his motives. Perhaps he was acting out of ritualistic obedience. The cell phone in my purse quickly condemned me. I had not worshipped in spirit and truth; in fact, before I saw him, I had not worshipped at all.
What was God's purpose for me in being at that place on that day? Simply to stand before my God and worship Him, to let go of me and grab hold of Him. For, sometimes we need to pause the motion of life and remember who we are in comparison to who He is and to ponder how our life work is partnering with His work within us.
Your turn.
When your plans don't go according to your plan book, pause and look around you. Close your eyes and ask, "Okay God, what story do you want to give me?" Then wait and watch. He might want you to simply stand and honor Him for who He is.
Let me hear your story. Sign up for my weekly newsletter for more What I Saw Today stories, then send an email to me, telling about what God let you see today,,