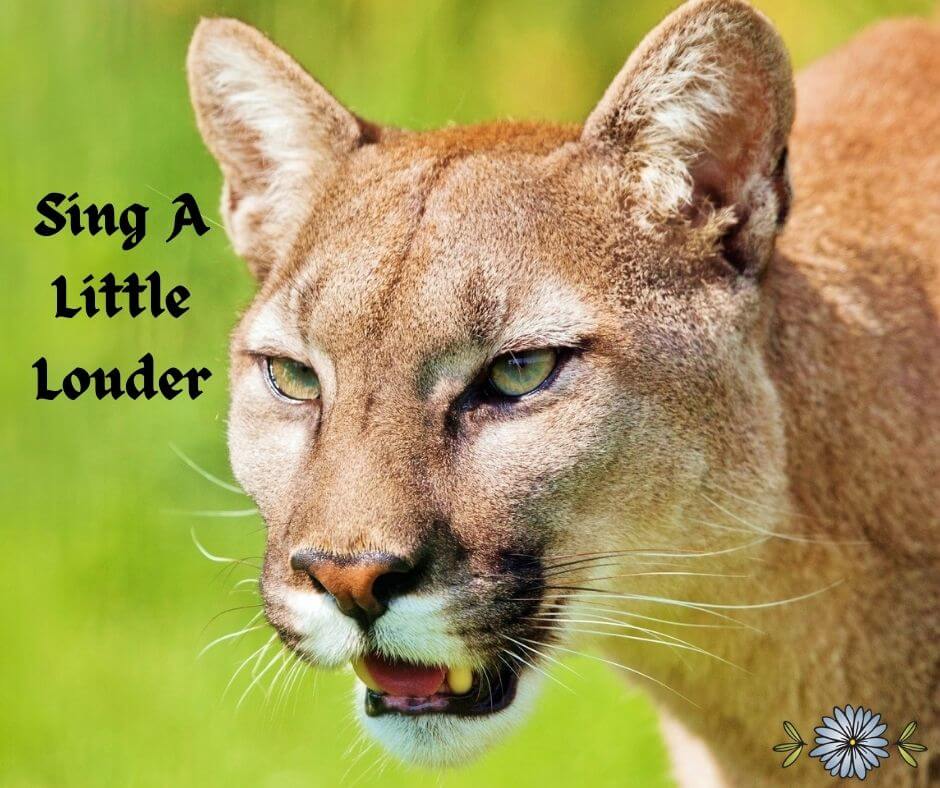 Danger doesn't have to make you run away.
My niece and I went hiking recently in the Saguaro National Monument east of Tucson. I love hiking. I love the quiet, the beauty of the desert, and the chance for physical activity. As an aging, out-of-shape flat-lander, I'm crowing. I walked 3 ½ miles and felt great afterwards.
While Rachael and I walked, we talked about mountain lions, of all things. The desert has its unique dangers. As one new friend says, "In the desert, all things bite." There are the obvious hazards: the spiny cactus, loose rocks, excessive heat, and the feared rattlesnake. But desert survival means you go prepared. We forfeited one trail because of flash flooding. Water from rains miles upstream can rush down mountainsides into dry river beds, and the wall of high speed water can become as deadly as a rattlesnake bite. This trip, I went armed with a walking stick, sunglasses, high top athletic shoes, a hat, and bottled water. We kept our eyes on the trail, always alert for eminent danger.
But the desert and mountains have some dangers you can't sidestep. In recent years, my niece told me, bears and mountain lions have increased in population. And, she informed me, you don't run from those. Even though it is counter intuitive, you stand your ground. You talk loudly as you travel the path. You throw your arm up first – it's better to lose a limb than a life, she said. Rachael told me that sometimes, when she hiked alone, she would walk down the path, saying loudly, "Hi Bear. Hi Bear."  Her noise would keep bears, wild pigs, and hopefully mountain lions at bay.
When else do we confront danger?
Her comments make me think of advice for avoiding human predators. Travel in groups. Talk loudly. Talk on a cell phone if you are in a questionable area. Scream. Fight back. If you are in a mass shooting situation, don't hide in one spot. Run in a zig zag pattern. Scream. Make a commotion. Throw objects at the shooter.
Bottom line. You might be terrified. But don't show it.
What does the Bible have to say about this?
As I read my Bible, I've often wondered about the Israelite army who faced off an oncoming Moabite and Ammonite army. They didn't run or hide. They went on the offensive and marched toward the enemy. And here is the surprising part. King Jehoshaphat put a vocal praise band at the head of the army to sing as they marched.
Imagine the psychological impact those praise singers had on their enemies. No surprise attack. Hey dudes, we're coming. We're confident. We know who's got this battle for us and we're not shy about thanking Him in advance for what He is going to do.
"After consulting the people, Jehoshaphat appointed men to sing to the Lord and to praise him for the splendor of his holiness as they went out at the head of the army, saying: "Give thanks to the Lord, for his love endures forever." (2 Chronicles 20:21)
Satan cannot thrive in the presence of worship.
That's what a missionary friend told me. For you see, Satan loves fearful people. Fearful people are weak and easy prey. The devil roars like a lion, whether jungle or mountain, and being the predator that he is, he is looking for anyone he can gobble up. Okay, the Bible word is devour (1 Peter 5:8).No wonder Ephesians 6:12 tells us to "stand firm." In other words, don't run. Don't shrink. Like Paul and Silas in the Phiippian jail who were definitely in a spiritual battle, sing. (See Acts 16:25.) Sing loudly.
Dangers come daily to our ordinary lives.
Maybe you feel like your current life situation resembles a desert, where everything bites. Danger may not appear in the form of human predators, large armies, or mountain lions. But if you are a Christian, Satan would love to bring you down and he has an arsenal of weapons that you haven't even begun to imagine the form those might take. It sounds counter-intuitive, but the next time you face a danger that makes you want to react in fear, dig in your toes. Don't run. Stand firm. Put on that praise music and no matter how off-pitch you are, sing along.
The big difference between saying "Hi Bear" and singing praise to God is this: Your voice, raised in praise to God, will do more than intimidate the enemy. The rest of 2 Chronicles 20 tells how God set ambushes against the army and they started fighting among themselves. When the Israelites arrived at the front line, they found nothing more than dead bodies.
You have God on your side. Your God will fight for you. Your praise music tells God you're counting on His resources to pull you through.
I wonder how a bear would respond to the wonderful praise song, "Raise a Hallelujah." Listen to the entire video to discover the battle the song writer faced when he wrote these words.
Sing a little louder, please.
Your turn:
What threatens you? What entices you to fear? Tell God in a loud voice how awesome He is and see what happens to that fear.
Try it. Let me know what happens.