God's grace shines most brilliantly in the most unexpected places – including the lives of special needs children and their caregivers.
I've asked Pam Halter, a writing colleague, to share her glimpses of God's grace through the life of her daughter Anna, who has multiple physical limitations. Caring for Anna isn't always easy. Today, Pam shares candidly what it's like to be the mom of a child with daily special needs and how God fills her moments with His grace and blessings.
Hi, everyone! Thanks, Karen, for inviting me here. To give you some background, I'm a children's book author and editor. I'm also the parent of an adult daughter, Anna, who has PDD-NOS (a form of autism), severe mental retardation (she's almost 24 and functions at about 18 months), vonWillebrand disease (a blood clotting disorder) and Lennox Gastaut Syndrome (a seizure disorder) which is not fully controlled, and a few more things in the mix. As you can imagine, I'm overwhelmed almost all the time. And what doesn't help is the people who love to tell me what a blessing Anna is. I started blogging because of that, with the hopes of find some kind of blessing for myself and my readers. It's been a long journey for me. When I read the things I wrote years ago and see the difference in what I write now, I see God's grace and mercy for me.
I wrote this on my blog in 2013:
I've been struggling lately with being Anna's mommy. No surprise there, huh? It brought to mind an email I got from the aide on Anna's bus one summer. I may have shared it with you before. If I did, it's worth reading again.
Dear Mrs. Halter,

I was Anna's bus aide during the summer. I hope you had a nice vacation and I especially want to
thank you for the homemade tomato sauce. I used it to make spaghetti and crabs and it was very delicious.

When I first started to ride the bus with Anna, she would sit close to the window and occasionally she would glance at me. I thought that if I could get her to pass her leaves to me, maybe we could pass other things. I brought different things for us to "play" with, we passed them back and forth and I would have her repeat the name or color to me. Our interactions made for very lovely bus rides, but it was even more special to share a few laughs with her! You see, six years ago this past July, our 19-year old son died in an automobile accident on the way home from work. Since then, I try to smile on the outside but rarely smile on the inside. Anna was able to make me smile on the inside. She is a very special person with a wonderful smile. I'll never forget her or our bus trips together.

May God bless your family!
Lu

I wept as I read. Then I looked at Anna and said, "Why don't you bless ME?"
Immediately, God spoke to my heart: she's not here to bless YOU. You are the caregiver of MY instrument of blessing. It's not about you.
I didn't wet my pants, but I wanted to. You know what I'm saying?
I stopped weeping and considered the situation. It was true. Anna blesses people. No matter where we go, she blesses someone. There's something about Anna that touches peoples' hearts. I could never understand until God explained it that day. My first thought was that He had given me a special honor and I should feel thankful. But I don't. Caregiving is not an easy job. It's often dirty, exhausting, filled with struggles, and always unnoticed.
Matthew 6:1, 3-4 says,
"Be careful not to do your 'acts of righteousness' before men, to be seen by them. If you do, you will have no reward from your Father in heaven … do not let your left hand know what your right hand is doing, so that your giving may be in secret. Then your Father, who sees what is done in secret, will reward you."
I was convicted deeply in my heart. God sees everything I do for Anna. He also sees when I'm not quite as nice as I could be. He hears every loving word. He hears every hateful word. What kind of caregiver was I, anyway?
Well, like the rest of us, I'm a flawed caregiver. I often fail. But there are more times when I do the right thing – only by the grace of God. So, when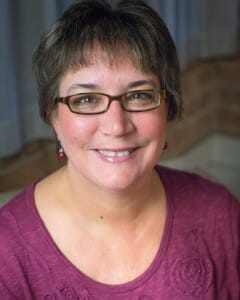 I grumble, punch the wall, cry out for help or weep into the carpet, I remember the situation is not a blessing, but God has brought blessings around it.
Remember the beautiful song from White Christmas? "When you're worried and you can't sleep, just count your blessings instead of sheep. And you'll fall asleep counting your blessings!" God gave me this situation, true, but He hasn't left me alone to handle it. I've often said He always takes care of Anna. That doesn't mean she never suffers or things never go wrong, mind you. They do. However, when I take my eyes off myself and begin counting those blessings, I see so many I can hardly count them.
Pam Halter is a children's book author and editor. She hosts a real, sometimes raw, honest blog for parents of special needs children. When she's not writing or editing, Pam enjoys quilting, cooking, reading, gardening, and Bible study. She lives in New Jersey with her husband, Daryl, her daughter, Anna, and her cat, Cosmo. Pam and Daryl have recently moved in with Daryl's mom who has dementia. She'll be blogging about that soon. Pam's youngest daughter, Mary, is a senior in college. Her son, Scott, and his wife, Gayle, have given her two grandchildren, Kendall and Lucas. Pam loves helping them discover new things about the world. Read more about Pam at her website: www.pamhalter.com