Tea will cure anything.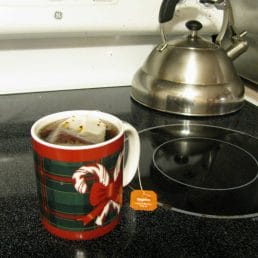 That's what I told my daughters. Got a cold? Headache? Lost your boyfriend? Let me fix you a cup of tea.
The girls and I love tea. When the girls were in elementary school, they enjoyed the American Girls books, especially the stories about Felicity, the girl from Colonial Williamsburg. We decided to have tea parties like Felicity. Every Tuesday afternoon, I would get out the nice china cups, make or buy special cookies, and have the table set when the girls burst through the door.
We had to use our best manners. We had to speak proper English. We could not interrupt each other. We couldn't grab what we wanted; instead, we had to ask politely for cookies to be passed. Each person was allowed to tell about their day, including Mom! That special time remains one of our best family memories.
As the girls reached their older teens, I began experiencing undiagnosed abdominal pain. It wasn't severe – I just felt several shades of miserable most of the time. I turned to my all-time comfort food, perpetually clutching my cup of tea on my worst days. Somehow it never helped. I only felt worse.
After six months of doctor visits including exploratory surgery, one doctor discovered I have an auto-immune disease called interstitial cystitis. It's a bladder condition controlled by eliminating acidic food from your diet. That meant no citrus, tomatoes, onions, vinegar, salad dressing, no – it gets worse – chocolate, carbonated drinks and some spices. And yes, you can see it coming. No coffee or tea.
When I got the no-no list, my heart sank. No Mexican or Italian food? No caffeine? One day, while shopping, I stopped at McDonalds for a drink. To my dismay, the only safe drink on the menu was water. I left in tears.
Christmas loomed less than a week away. My family realized the impact my condition would have on all of us as I tried to incorporate my dietary restrictions into our favorite family meals. No one was happy. My younger daughter became somber. I discovered she had intended to give me a special black tea blend for Christmas. Now she had to scramble to find another present.
Since food is so intricately tied to our social relationships, I feared my diet limitations would restrict my social contacts. How would I handle restaurants meals, church potlucks, or even the church's Sunday morning coffee hour without drawing attention to myself?
The first Sunday of my new diet, the fellowship committee provided doughnuts and coffee before Sunday School. Doughnuts! I love doughnuts! As I scanned the box, an older woman teased, "Can't find anything you like?"
"I don't think I can eat any of these," I said.
Not knowing my dilemma, she pointed toward another box. "There's sugar-free doughnuts."
"Sugar's not the problem. I can't have chocolate. . ."
"There's a lemon filled," she interrupted.
Not wanting to explain, I picked up a plain cake doughnut, quickly turning away from the coffee that would help wash it down. I chided myself for wanting to cry. After all, there are more important things in life than doughnuts and coffee, right?
Numerous people asked how I was feeling. It was all I could do to put a positive spin on my situation when I was so discouraged. After services, as I put on my coat, my good friend Marian stopped me.
"Are you still hurting?" Her voice gentled with compassion. Even though Marian is a close friend, I tried to cut short my reply, not wanting to talk about my bladder anymore.
But Marian didn't respond with quick words of sympathy or reassurance."Oh Karen. no wonder you hurt. My sister-in-law has that." Instead of talking about her sister-in-law, she asked how I was adapting, if the pain was subsiding and how my family was coping. Her beneath the surface questions showed her genuine interest.
"Can you drink herbal tea?" she asked.
"Yes, but I'm getting tired of the same old flavors," My candid responses surprised me.
"There's all kinds of herbal teas available. Try them out."
Feeling hope for the first time, I realized I needed to focus more on what I could eat rather than mourning what I couldn't. However, I still fretted over battling the food barrier in social situations. I didn't realize how much I had underestimated my friends.
By the next Sunday, the grief over giving up my favorite foods had lessened. As I approached the coffee bar, ready to try again, Marian greeted me. "There's an apple cinnamon herbal teabag here. Can you drink that?"
Taken by surprise, I stammered, "Yes, I think so. But there's no hot water." The church had always served only coffee.
"We brought in a second coffee maker for hot water." She pointed to the table.
As I savored the taste of apple-cinnamon, Marian appeared beside me. "Do you like it?"
"Yes, very much." I smiled with pleasure.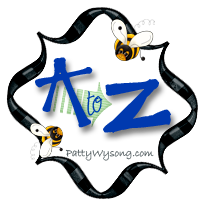 Marian beamed. "Good! I'll make sure there are herbal teabags for you every week."
Tea is still my ultimate cure-all. But the cure isn't in the cup. Rather, it is in sharing the moment with good friends and family who care more about each other than about the food they eat.
I needed to focus more on what I could eat rather than mourning what I couldn't. Tweet this
Tea will cure anything – right? Tweet this.