"Thank you for your service."
It's a commonly heard response when people are introduced to military personnel. It's a sign of respect and gratitude for someone's sacrifice of career, comfort and possibly life itself for the higher goal of keeping our country safe.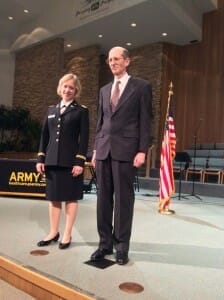 As the mother of an Army Captain and the niece of a World War II veteran, I've been caught off guard and sometimes bewildered by the sheer volume of times I've heard this phrase used and the times I've been asked to convey people's sentiments to my daughter and uncle. With family ties to the military, I admit, I often don't think about the sacrifice. It's just what our family has done.
I also know the people behind the uniform. I know their character. I know their struggles. So often I wish I could say, "Oh if you only knew what they were really like, you would say so much more than that pat phrase of thanks."
I've talked a lot on this blog about Uncle Eldon and his service to his country. At age twenty, he became part of the clean-up crew after the invasion of Normandy and fought on the outskirts of the Battle of the Bulge. Shot in the forehead, he was taken into captivity by the Germans and placed in a prison hospital where you can only imagine he didn't get the care he needed. Meal rations were nothing more than potato peels floating in a questionable broth. When the Red Cross freed him two months later, it was too late to remove the bullet which is still lodged in his skull to this day.
In spite of his injury and the emotional trauma of war, Uncle Eldon returned to Arizona, married his sweetheart, went into the produce business with his brothers, and carved out a comfortable life for himself.
You see, Uncle Eldon's service went far beyond the battlefield. Instead of feeling sorry for himself, he worked hard. He stayed seventy years faithful to his wife. He always had time for his nieces and nephews. I remember best his grin and his laugh. He was one of the happiest—and orneriest—people I have ever met. He loved the Lord in a quiet simple way. Even though he didn't outwardly express his beliefs, the faith was there. We knew it by his outlook on life, his integrity, and his contentment with the world.
That view of life was most poignant the day I told him our daughter was joining the military to serve as an optometrist in the U.S. Army. There was a moment of silence, but that was normal for Uncle Eldon. His war injury had impaired his speech so he always sounded like he was taking a moment to collect his thoughts. Then he said. "Well that's fine. She'll do fine. Tell her to not be afraid and have fun."
This from the man who still has a bullet in his head from an act of war!
We encouraged our daughter to join the military to help pay for her college expenses. Even though she was, at the time, a reserved, un-athletic teenager, it was a natural step. Several family members have served in the military and she grew up hearing the stories of their service.
"There's a list of qualities, called Army values, we aim for in the military," she told me, rattling off the list of loyalty, duty, respect, selfless service, honor, integrity, and personal courage. "Those attributes are what set military people apart."
She went on to add, "I think I understand and do better at selfless service and personal courage because of the example I've seen set in my family, especially in Uncle Eldon." She reminded me of what I had experienced so often. Uncle Eldon and his wife Charlotte were experts at caring about others more than themselves. Their home, nestled against the Rincon Mountains in Southern Arizona became a haven to the entire family. They both had a knack for making every visitor feel special, valued, and important.
Last Christmas when Katherine went to visit family in Arizona, she packed her fatigues in her suitcase so she could wear her uniform for Uncle Eldon. Even though he was in the final stages of Alzheimer's, his face lit up. He connected. The uniform spoke and for the next four hours, he was engaged and lucid as she told him about military life in the 21st century.
Phil 1:6 says,
"He who began a good work in you will carry it on to completion until the day of Christ Jesus."
Today, Uncle Eldon is in the final hours before transitioning to his heavenly home, but God continues to use his influence in so many lives. Tears have already flowed, but they are there because we are so incredibly grateful every time we think of him. His legacy ripples outward through the medical services of a young Army captain who cares for the eyesight of eighteen-year-old recruits that remind her of a young man their age who once went off to war. God's work continues on in all of us, for we are all stronger, more courageous, more others focused people because Uncle Eldon showed us how to live with forgiveness, contentment, and tenacity.
Uncle Eldon, thank you for your service. All of it.