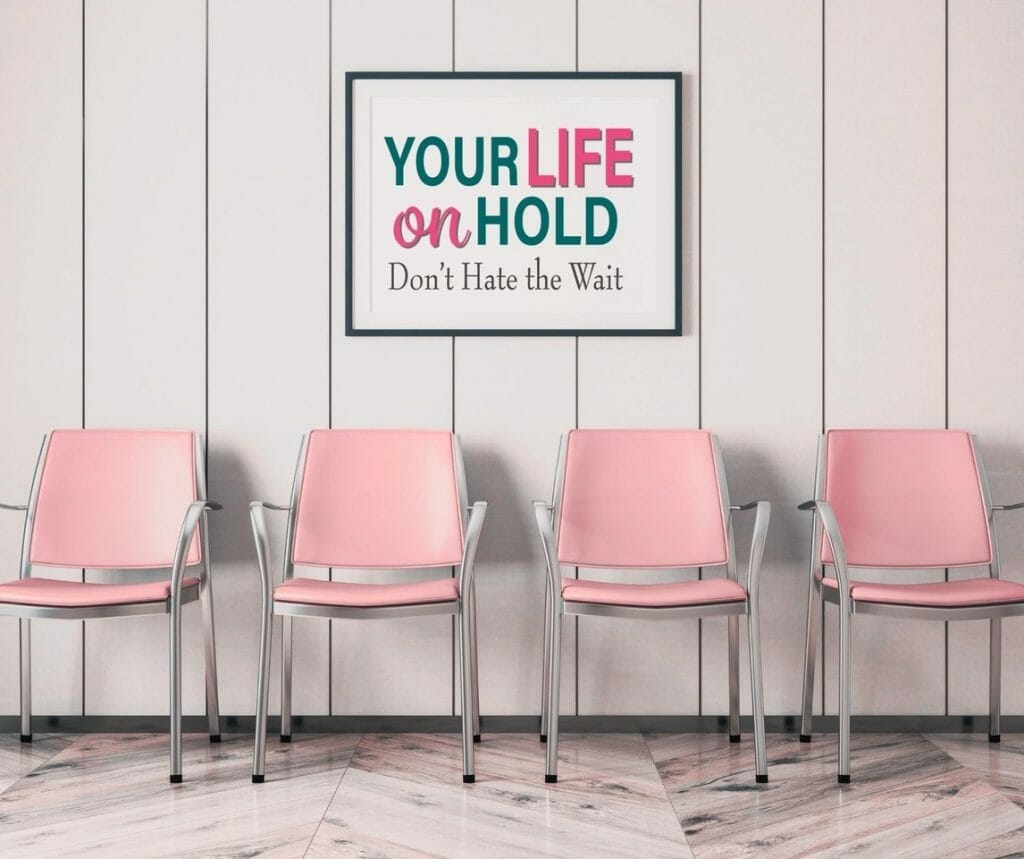 We just celebrated Christmas, and now we're looking ahead to the New Year. I'm a big planner—have been my entire life. Even as a teen girl, I liked setting goals. The problem with goalsetting is that I have so much not in my control. Every detail is dependent on something I don't know yet. Can you relate?
2023 Goals
As I set goals for 2023, the hardest thing is the trial of hurry up and wait. As I write this, I'm waiting for results of a vital medical test because they've discovered a mass near my spleen. It might be nothing, or it might be something deadly. It might take up all my time and energy as I start the New Year, or I might get good news and find I have more energy than ever after the weight of the wait is lifted.
How do we plan during times like this? Or should we even try? I've discovered that it's in the not knowing that we learn the most. What can you learn right now, while you wait?
Faith is in the not knowing. Sometimes we don't learn a life lesson, we just learn that God's presence is enough while we wait. Faith is what connects us to hope, even as we face the unknown, because we anticipate a good outcome. How do I know there will be a good outcome despite what happens next? If we've placed our faith in Jesus, being with God is our final outcome! Even in the hit-rock-bottom times, we determine to risk hoping for a better tomorrow. How? By reminding ourselves of how great God is.
Retreat to Refresh
If your life is like an empty cup right now, let your mind fill it. Take a little mental retreat to restore your soul. Or perhaps, even a real physical retreat! Let your mind dream about it. Where will you go? What will you do? How will you come away refreshed and strengthened to either wait some more, or move forward, depending on God's direction?
Learning to retreat helps us not only get out of the holding pattern but also helps us be content and joy-filled as we wait. I have to remind myself often to be willing to change my clock and calendar to focus on God's timetable instead of my own.
Many of my personal retreats include goalsetting sessions. Goals help me get unstuck. They make me feel like I'm making progress on what I do have control over while I wait for something to change that I don't have control over.
While you Wait
Have you ever been stuck in a spot between stop and go and wondered why God wasn't giving you a green light? It's tempting to lose hope, abandon faith, and drop your trust in him when he
doesn't act on your prayers in a timely fashion. (His timetable is different than ours.)
Just because your life is on hold and it seems like nothing is moving forward, there are still actions to take while you wait.
Here are a few steps you can take while you feel stuck:
Slow down enough to cherish being held by God rather than feeling held up in your plans.
Look for God at work and get involved in that activity while waiting for your answer.
Be alert to life, so you can grow even when it seems like you're not getting anywhere.
Accentuate the things that propel you rather than those things that drag you down. Motors, not anchors.
Dislodge being stuck in the pause rut by learning something new. Variety refreshes whatever feels stale.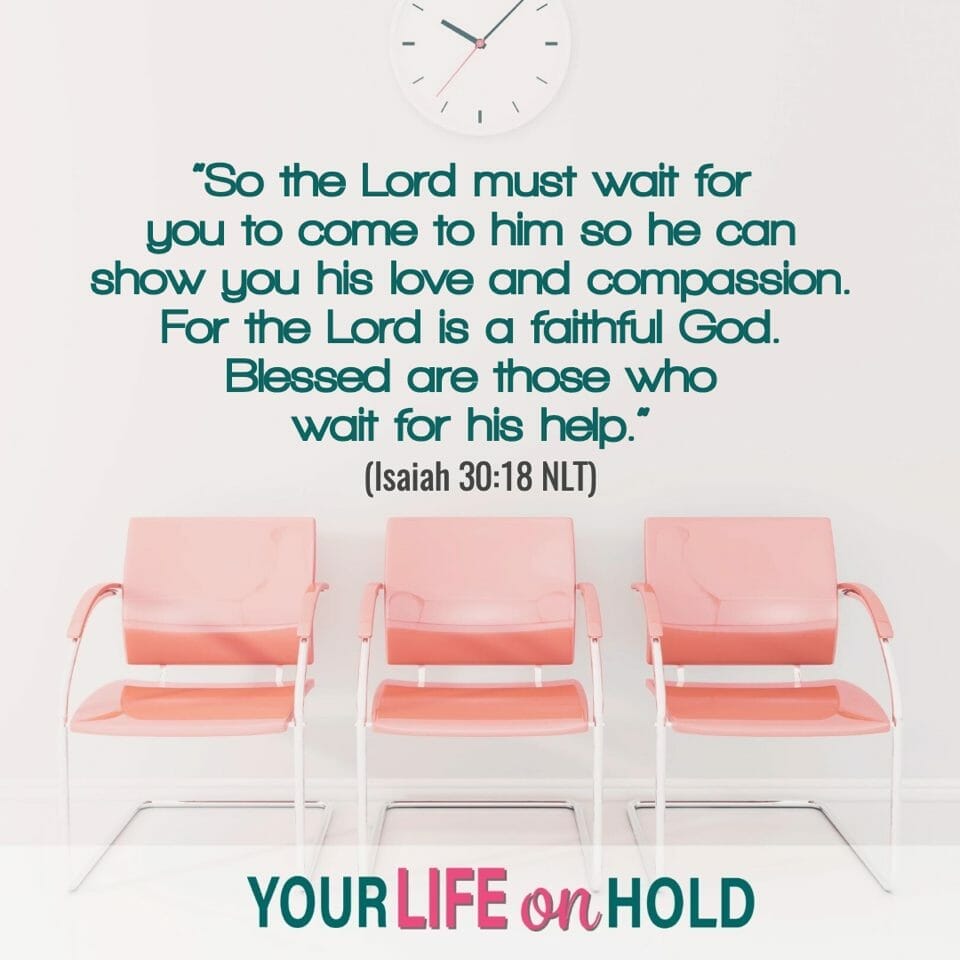 In the Meantime
What would God have you do in this meantime waiting season? He loves us too much to let us settle for mediocre. If we choose to not make plans, then life simply happens to us. That perpetuates the rut. The wait means something. We get shaped, refined, refreshed, refueled—this wait means something.
But be careful not to use being busy as a coping mechanism as you wait. Sometimes, that is my default, and I end up overwhelmed and overwrought! Let's make sure we look for signs of overdoing it, so we stop before it overtakes our thoughts and time.
We don't have to fill every second of every day with doing. Waiting gives time for "being" to catch up with "doing." When we see waiting as an ingredient to a better outcome, we feel more productive as we live life on hold. The wait doesn't delay God's purpose—it fulfills it.
About Kathy Carlton Willis
Kathy Carlton Willis is God's Grin Gal. She writes and speaks with a balance of funny and faith—whimsy and wisdom. Over a thousand of Kathy's articles have been published and she has several books in her Grin Gal brand. Today's article is inspired by Kathy's latest book, Your Life on Hold: Don't Hate the Wait. Consider joining one of Kathy's groups for 2023. More information at www.kathycarltonwillis.com.
Your Life On Hold: Don't Hate the Wait
A life on hold isn't a life delayed. It's simply not time yet.
Do you feel as if your "next" is postponed or delayed? Is a circumstance draining your joy? You can find peace and contentment while you wait for life to improve.
As you read Your Life on , be on the lookout to see God's hand in the wait as much as in the go. You will gain new tools to make the most of today while waiting for the hopes of tomorrow to be fulfilled.
In Your Life on Hold, Kathy shares the nuggets mined from her own back-to-back-to-back life on hold challenges. She admits to frustrating emotions and reveals lessons learned during the wait.
Each short chapter gives a bit of inspiration, a heartwarming or funny real-life story, snarky confessions, a little motivation, and some empathy. You'll see what the Bible says about enduring the wait.
The chapter section called "During the PAUSE" includes a prayer to PRAY when you don't know what to pray, an ADJUSTMENT to make, an action to UNDERTAKE, something to SEEK, and a situation to EVALUATE.
Your Life on Hold is designed for distracted, overwhelmed Christ followers. Light enough to absorb, but deep enough to impact you as it delivers comfort and inspires a change.
Delays are the beginning of grand adventures.
Don't clutter the journey with wondering what-ifs
when you could be experiencing a new kind of faith!
You can purchase "Your Life On Hold" on Amazon, or Barnes and Noble