Saint Patrick's Day is coming. St Patrick's Day makes me think of Corned Beef and Cabbage, Irish Soda Bread, and Lamb Stew. Mmm, stew. I'm smiling. Because stew makes me think about worry. Okay, my mind is connecting random dots. What gives?
We all worry. We may just express it in different ways.
Some are stewers.
Some are doers.
I'm a stewer. I tell people I'm a great cook. I make the best stew ever. The most succulent of stews sit on the back burner or inside a slow cooker on a low boil all day. Yep, that's me. My worry matter can simmer in my mind for hours throughout the day and even worse, throughout the night. If I cooked real stew like I simmer my worries, I'd win Food Network cooking contests.
That may be a great recipe for stew but it's a rotten recipe for successful, stress-free living. The only thing simmering worry produces is sleepless nights, red eyes, and stomach knots, leaving the worrier even more incapable of coping with life. Been there, done that, got the face wrinkles.
We hide the way we worry. We act like everything is all right. We let it creep out under the guise of a prayer request. We come up with multiple solutions of how to handle the situation. We let our imaginators run wild, writing fictional scenes in our brains that rival Stephen King's creativity, as if trying to prove to ourselves we can handle the thing we fear.
I did that the other night. I had received an email that registration was now open for the annual writer's conference I've attended the last two years. The email triggered memories of the struggles and obstacles I faced those two times as a visually impaired person. As I lay in bed that night, I conjured up the worst thing that could happen to me at the next conference and painted myself into scary scenarios as the conquering heroine tapping her white cane through obstacle filled corridors to win the hearts of awe-struck editors.
I couldn't state my plot line in two simple words. "I'm worried." No. No ma'am, no sir. Worry is a sin. I surely don't want to admit a sinful stain in my life. Worry at its essence is doubt in God's ability to handle the situation. I don't want someone to think I'm weak on the faith front. I'm the one who writes articles about worry that ask, "Do I believe in God or don't I?"
The crowning incredulity of my worry is that this conference is six months away. And I lost three hours of sleep over this? Silly me!
"This is so hard," I've heard my Bible study ladies say. "I say I'm going to turn things over to God then I try to take them back." Just like a yo-yo on a string. Like my worry. I thrust it toward the Lord, then reel it back. I need to cut the sting.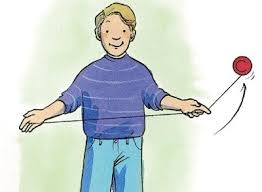 Every day is a new struggle, I tell my ladies. Every day you face the monsters. Some days you do better than others at overcoming. Each day, you get a little better at the conquest. One day, in Heaven's courts, God will wipe away the tears shed over the struggle.
I understand the mantra of Alcoholics Anonymous is "One day at a time." Reforming alcoholics never let down their guard. They celebrate the sobriety of one day, but the next day begins a new battle. That's good advice for any of us who struggle against a particular sin. Including, ahem, worry. Take one day at a time.
God does that with us. He reminds us that His faithfulness, His grace, is new every morning. I need to return the favor. I need to let God know each and every day that I intend to stay faithful to Him, that I intend to rely on His faithfulness today, just for today.
After all, isn't that part of the message behind "Give us this day our daily bread?"
I'm not going to think about tomorrow, Scarlett O'Hara, because tomorrow is a long way away. Lots could happen between now and then. For now, I will concentrate only on now, this moment, and how I'm living the now to God's glory.
No more stew. Just pass me the bread.
Here's some great quotes about worry. What's your favorite quote?
And my favorite, from Jesus: