I get really uptight about birthday cakes.  It's not the cake part the bothers me; it's the icing.  I fret and sweat over getting the icing swirled just right. With my lack of artistic ability, I simply cannot do any form of decorating.  Or so I thought.
To make matters worse, when my two girls were small, character cakes were all the rage.  The one-up-man-ship in our rural Kansas town didn't come from whose mom took everyone to Chuck-E-Cheese or bowling and pizza – it came from who had the most trendy character cake.  One party it was Thomas the train.  Another was a lamb like Lambchops.  Then there was Minnie Mouse.
I was a failure.  I couldn't decorate a birthday cake to save my soul.  That's okay, other moms  told me, they couldn't decorate birthday cakes either.  They bought their birthday cakes at Walmart.  That's fine.  Walmart was 65 miles away and I couldn't drive.  Face it, I was a bad mommy. One year I cheated and coerced  a kind hearted friend to make a Barney cake for my four year old.  My daughter was ecstatic. I was miserable.
About that time, my aunt sent us a cookbook for children called Alpha Bakery put out by the Gold Metal Flour Company.  With a recipe for every letter of the alphabet, near the back for the letter X was a recipe for Xtra Special Celebration Cake.  It was a simple recipe but it was the decoration idea that caught my eye.  The recipe suggested using mint wafers and licorice to create balloons.  I could do that, I thought.  So I tried it.
My family absolutely loved it!
The next year, I made the cake again.  Finances were tight, it was two weeks after Christmas, and I was trying to make do with what I had.  I researched cookbooks and found several ideas for decorated cakes that never felt the metal edge of a decorator's tip. So I tinted the icing pink, crushed a candy cane into the icing, and marked each piece with a round peppermint candy.  Another winner.
The next birthday loomed.  Bracing myself, I did what mothers shouldn't do.  I asked my child what kind of birthday cake she wanted.  She bounced up and down.  "Xtra Special Celebration Cake!" she shouted.
Flabbergasted I sat down.  "You don't want a character cake like your friend had at her birthday party?"
"Mom!" The eyeballs rolled.  "EVERYBODY has those kind of birhtday cakes.  They're nothing special.  NOBODY makes cakes like you do."
As parents, we had tried to teach our girls to be their own persons, to develop their own likes, to avoid "following the crowd."  My own teaching turned back on me and I learned that in doing the best I can with what I have, I can portray my own Xtra special uniqueness.
God told the prophet Jeremiah, "Before I formed you in the womb, I knew you. Before you were born, I set you apart."   God knows each of us, individually.  He has made each of us xtra special with our own set of unique gifts, talents, passions and creative solutions.  My goal is not to be like everyone else, but to discover and develop the xtra special uniqueness God has put inside me.
The crazy footnote to this story?  I asked my girls to read my blog post for accuracy.  Both of them could barely remember the cakes of their friends! What seemed so important long ago has been dulled by time.  But they do remember several of their own birthday parties and the unique things we did and the special friends we invited, particularly one grandma-friend. It took an Xtra special cake recipe to make me realize – making memories of family and friends is what is most important about a birthday celebration.
Here is our family's recipe for Xtra Special Celebration Cake.  What Xtra Special way can you decorate this cake?
Xtra Special Celebration Cake
3 cups flour
2 cups sugar
1/2 c cocoa
2 tsp baking soda
1 tsp salt
2/3 c vegetable oil
2 tsp vinegar
1 tsp vanilla
2 cups cold water
Heat oven to 350 degrees.  Grease 2 round pans, 9×1/1 /2 inches; dust with flour.
Mix  flour, sugar, cocoa, baking soda and salt in a large bowl. Mix oil, vinegar, and vanilla.  Stir oil mixture and water into flour mixture and beat until well blended, about 1 minutes.  Pour evenly into the two pans.
Bake until wooden toothpick comes out clean, about 35 minutes.  Let cool 10 minutes. Remove from pans; let cake cool completely.  Fill and frost with desired frosting. You can arrange mint wafers, flattened gum drops or fruit gems on the cake as balloons, using string licorice for the strings.  Or you can do what I've done in the picture; spread pink icing over the cake then sprinkle crushed peppermint candy over the top.
God has made each of us Xtra Special. Tweet this.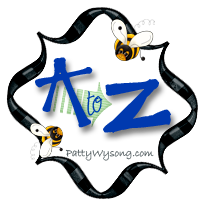 What else is Xtra Special on the A to Z blog Hop?  Check it out!