Desert bloom. It's a classic oxymoron.
Do you like lists of words that are oxymoron doubles? Here's a few:
Deafening silence
Living dead
Larger half
Clearly confused
Microsoft Works? Okay, be nice.
Civil engineer? Someone will have to explain that one to me.
Here's my favorite. Jumbo shrimp. Yeah, right.
What about desert bloom?
I like desert bloom as an oxymoron because, as a desert rat in Southern Arizona for the first twenty-three years of my life, I've seen it happen. Other than the single waxy white blooms atop the mighty Saguaro or the pretty pink flowers capping a barrel cactus, flowers were not an annual occurrence. Yet, every ten years or so, when the Desert Southwest had an abundance of winter rains, this:
Turns into this.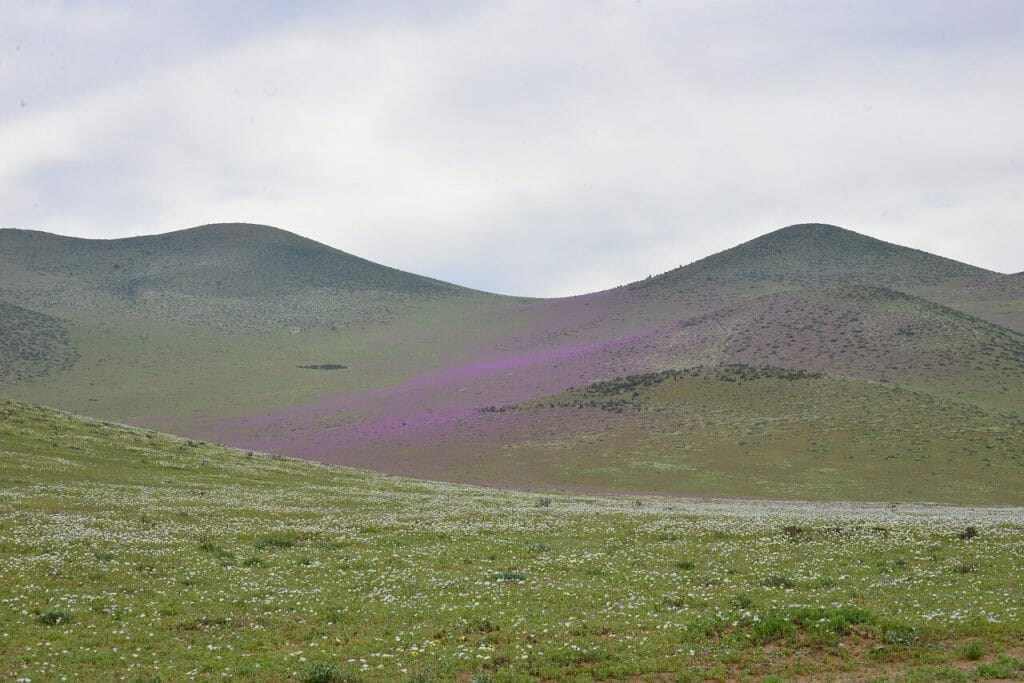 It's amazing. Like Easterners who take rides to check out the autumn leaves, our family would pile in the car on a Saturday afternoon and drive through the Saguaro National Monument to see the desert brushed in full color splendor.
The prophet Isaiah knew about the phenomenon of desert bloom:
The desert and the parched land will be glad;
    the wilderness will rejoice and blossom.
Like the crocus, it will burst into bloom;
    it will rejoice greatly and shout for joy.
The glory of Lebanon will be given to it,
    the splendor of Carmel and Sharon;
they will see the glory of the Lord,
    the splendor of our God. (Isaiah 35:1,2)
Desert bloom reflects God's glory.
Creation is not limited to spoken language or musical sound when it comes to praise of a caring Creator. God designed the desert to declare praise by transforming it literally overnight into an artist's delight. The Bible says that the mere existence of dessert blossoms declare praise to God.
There's more to Isaiah's point about this whole unexpected exaggeration of barren to blessing. God uses the oxymoron of desert bloom as an object lesson to give us a glimpse of our coming salvation:
Strengthen the feeble hands, steady the knees that give way;
Say to those with fearful hearts,
    "Be strong, do not fear; your God will come.
    he will come with vengeance;
with divine retribution he will come to save you." (Isaiah 35:3,4)
Do you feel barren?
Like you have nothing left to give anyone? You're running on empty? Nothing can ever grow in your life again? You're so weak, so tired, or so damaged that the root system of your life couldn't handle anything good even if it did come your way?
Take heart. God has the capacity to bring desert bloom into your bareness. He can rescue, deliver, and strengthen you for the good He has promised to you. It might happen in this life. Or it might wait until you are on the other side of the grave. But like a barren land that has lain fallow for decades, God can and will make you bloom again.
How drastic will be this change? Isaiah gives a list of oxymorons in verses 5-7:
The blind will see
The deaf will hear
The lame will leap
The silent tongue shall speak
Water will burst forth out of a dry land.
Streams will appear in a desert wasteland.
The hot burning sand will become a pool of cool water.
Good healthy grass will grow.
Pretty amazing. The ultimate of oxymorons.
The best part comes at the end of Isaiah 35:
And those the Lord has rescued will return.
They will enter Zion with singing;
    everlasting joy will crown their heads.
Gladness and joy will overtake them,
    and sorrow and sighing will flee away (Isaiah 35:10)
So the next time you see a desert in bloom, think of it as more than an anomaly or even an oxymoron. See it as a reminder of God's promise that He can turn around your life and make it bloom with brilliance. Joy will outrun the sorrow. Singing and laughter will fill your sad heart and your mouth. If you trust in God, He will fill you with an everlasting joy.