How do we make America great? The answer is not found in a Presidential candidate. The answer is found in Psalm 15, our online bible study for this week.
"America is in trouble." "America is going down the tubes." "God will not bless America if America won't turn from her wicked ways."
I hear that refrain over and over. It's quickly followed by another refrain, the words of 2 Chronicles 7:14: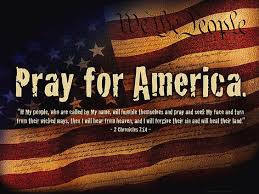 Folks conclude their vent about American immorality with, "We need to pray."
Praying isn't enough, my friends. 2 Chronicles 7:14 starts with, "If my people . . ." The people who belong to God. If you say you follow God, reform starts with you. It also says, "seek My face and turn from their wicked ways." How well are you doing with YOUR relationship with God?
What are we supposed to do? Give me specifics. What actions define a righteous life?
Many other passages describe the behavior of a righteous person. Let's take a look at one of them, Psalm 15.
Study from Psalm 15
1. Verse 1 uses a metaphor to describe a righteous person. What does this metaphor mean?
2. Verse 2 introduces the topic and answers the question of verse 1. What kind of people can get close to God? How would you answer the argument, "But no one's perfect!"
3. Here are eleven attributes of a righteous person as given in Psalm 15 (Taken from the New International Version and the New Living Translation.)
Lead a blameless life




Do what is right.




Speaks the truth from sincere hearts.




Utters no slander (gossip).




Does no wrong to a neighbor.




Does not speak evil of a friend.




Despises a vile person.




Honors those who fear the Lord.




Keeps an oath even when it hurts.




Lends money to the poor without interest.




Does not accept a bribe against the innocent.
4. Ponder each item on this list. What do each of these mean? How do each of these attributes
Look at the list. Rate yourself from 1 to 5 each item. How well are you following God's recipe for a righteous life?
5. Read the final sentence of the Psalm: "He who does these things will never be shaken." How will living this way lead to a more stable life and more solid connection with God? Have you observed in your own life or the life of a family member how not following an item on this list makes life more difficult?
6. Is this list outdated or impractical for our contemporary society? What would happen if Christians took this list seriously?
7. We often have our "favorite sins" that we like to point out. God's Word is clear. It's easy to point to specific, obvious sins. If we want to find favor with God, we will obey and follow Him in all ways, not just some. How does your life measure up to this list?
8. Using the advice from Psalm 15, what will YOU do this week to return America to God?
We will make America great when each of us commit ourselves to live life God's ways. Will you join me?