Have you ever tasted an MRE?
An MRE (Meals Ready To Eat) is a prepackaged meal the military provides for soldiers in the field or on the front. The military, according to my daughter, a U.S. Army Captain, has an acronym for everything.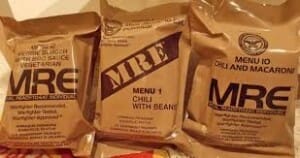 During participation in the Army's Basic Officer Leadership Course (BOLC – see? I told you), my daughter spent three weeks in field training. Officers ate MRE's, slept in tents, and did three miles walks while carrying gear and guns. Of all weeks in the winter season, sunny warm San Antonio was cold and windy during the first two weeks of the field experience. Anything the group did was done outside, all day, every day.
The food allowance was quite generous, so our daughter saved back several packets and gave them to us. One day, after returning from getting her settled at her new post, we decided to make a lunch of the MRE's. Our menu consisted of beef stew, meatballs in marinara sauce, spiced apples, and crackers with cheese spread. While I tore up a salad so we could get our veggies, my husband cut open packages, poured the contents into bowls to warm in the microwave, and set the table.
We sat down, prayed, took our first bite, and then stared at our food, realizing for the first time what our men and women in uniform put up with on a daily basis.
The food in and of itself was not bad tasting. While the meat in my stew tasted like processed hot dogs, it was not unpleasant. Compared to what we've heard about C rations from the Vietnam era, this was gourmet eating. That's not what bothered us. In spite of the decent taste, we weren't reenacting the real experience. Not by any stretch. We still had little clue of what our military goes through on a daily basis.
We warmed our food in a microwave instead of using the little compact heaters my daughter said warmed only half the food in the packet.
A soldier on the field didn't have the option of preparing a salad – or anything else. What she ate was what she got. That was the choice.
No room for picky eaters. Vegetarian? Gluten free? Organic? Low sugar? Forget it. If you're hungry, you'll eat it. Don't even worry about calories. You'll burn them off during tomorrow's 5AM three mile fast walk. Want more salt? Too bad. Like catsup on that beef patty? Not here. Didn't get a packet of Skittles in your meal kit like your battle buddy did? Maybe next time.
We only had to do this for one meal. The next meal was freshly prepared and of our choice. Officer trainees did it five days in a row. Those who serve on the front lines do it indefinitely.
We were in the comfort of our home. Out of the wind, the cold, the dust, in comfortable chairs. Our soldiers are outside, standing up or squatted on the ground.
We used our Corelle dishes. My daughter scolded me when she heard I didn't eat it straight out of the packet.
We ate leisurely. The meal packets take ten to fifteen minutes to heat using that little compact heater thingie. Soldiers have little more time than that to eat it. No wonder the food didn't get hot all the way through.
It was quiet and I was relaxed. That's the difference that hit me hardest. There was no threat of incoming fire. For part of her training, our daughter did a medical simulation where some of the officers played the role of casualties and the rest of the officers dealt with the injuries. Frequently they were interrupted by simulated gas attacks or sniper fire. Imagine trying to grab a bite to eat under those conditions.
I've been amused at an expression people often say to those in the military. "Thank you for your service." As soon as my daughter entered the army, even before she did anything, strangers would say it to her. Now that phrase has an entirely new meaning to me.
Our troops not only sacrifice the safety of their lives. They sacrifice a space of time in their lives. They sacrifice daily comforts, the freedom to choose the food they prefer. They sacrifice their convenience for the greater good, for something higher than themselves.They sacrifice their freedom of choice so we can have many choices. Even the officer most unlikely to be deployed—which are probably the dentists and optometrists—must endure training that teaches them to be strong, resilient and self-sacrificing. They do this so they will have more understanding and empathy for those who are deployed and must face MRE's and incoming fire on a daily basis.
Those in the military choose to take risks, to sacrifice their future and possibly their very lives. They do without so that we may have. Eating our daughter's MRE makes me want to be a lot more grateful for the food on my plate, to simplify my lifestyle, and not demand as much or so much variety.
There's a spiritual correlation here as well. We often think of Jesus' death on the cross as His ultimate sacrifice and so it is. But Jesus gave up even more. He left the splendor and glory of heaven, stuffed His divinity into the limitations of an earthly body, and endured 33 years of life on earth with limited choices. He gave up, He did without, so that we could have.
He emptied himself . . .
Have this attitude in yourselves which was also in Christ Jesus, 6 who, although He existed in the form of God, did not regard equality with God a thing to be [f]grasped, but emptied Himself, taking the form of a bond-servant, and being made in the likeness of men. – Philippians 2:5-7 (NASB)
. . . so that I can have life in abundance.
"I came that they may have life, and [a]have it abundantly." – John 10:10b (NASB)
Oh God, forgive me when I fail to be grateful for all You and others have given up so that I may have life to the full.
What's your experience with an MRE?