Many times, people have asked me what I can see.
Since I was born with poor vision, I stumble on knowing how to answer that question. I don't get how two eyes can possibly work together. My left eye is significantly stronger then my right eye, so I usually look out of one eye. For years, I only saw the moon as a blurry round circle so I thought my science textbooks were lying to me when they said the moon was a crescent shape. If you want to know what I see, ask me what I see when I look at a specific object.
Okay, you say, what can you see if  you are washing windows?
I don't mean to be difficult about this, but that is still a rather broad question. Let's break it down.
Can I see the window and frame? Yes. Can I see the dirt on the window? No. Can I see the dirt on my rag? Yes.
Can I see the Windex as I spray it on the window?  Well . . .  it's a blurry mess.
Can I feel the dirt underneath my rag as I wipe the window? Amazingly, yes. Close your eyes the next time you wash windows to see how it feels – no pun intended. It's really neat!
If I can't see the dirt, how do I get the window clean? My mind fills in what my brain can't see. I pretend there is a fine layer of dirt over the entire surface and I methodically wipe the window in a patterned sweep.
Can I see well enough to get the windows clean? I wouldn't know unless somebody told me.
Can I see the spider crawling up the wall or the snake hidden under the bush at my feet? Let's just say that if I can see the spider or the snake, I am too close. I take the phrase "walking by faith and not by sight" very literally.
Some days, I see better than other days. Other days like anyone else, I get lazy and just don't want to try as hard. Do I clean the windows anyway? Yes, because it needs to be done.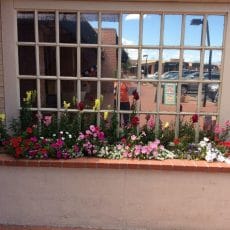 I Corinthians 13:12 says,
"Now we see but a poor reflection as in a mirror; then we shall see face to face. Now I know in part; then I shall know fully, even as I am fully known."
Like my restricted eyesight, there is no way we will understand God's ways this side of Heaven. We will always have a limited perception of who God is, how He works, what He did for us at the cross, and how we are supposed to connect with Him.
Compare this to Hebrews 12:1,2 which says,
"Therefore, since we are surrounded by such a great cloud of witnesses, let us throw off everything that hinders and the sin that so easily in tangled, and let us run with perseverance the race marked out for us. Let us fix our eyes on Jesus, the offer door and perfecter of our faith, who for the joy set before him endured the cross, scorning its shame, and sat down at the right hand of the throne of God."
We're supposed to fix our eyes on Jesus. Fix our eyes, those imperfect weak eyes, on a Person we can't even see well. Run a race toward a finish line hidden around the bend. Trust this God/man we don't fully understand.
I like the way the New King James translates verse two. It labels Jesus as the author and finisher of our faith. Jesus is the architect of our race course. He ran and finished the race. He knows it can be done. And now, He stands at the finish line, like a coach, waving us in. "Come on! Come on! Come on! You can do it!"
Remember? He is the one who said on the cross, "It is finished!"
So we fix our eyes on what to us looks like a blurry mess that becomes bigger and clearer the closer we get to the finish line. Whether or not we see him clearly, we keep looking because our minds fill in what our eyes cannot see. It's Jesus. The closer we get, though our strength begins to ebb, the better we see Him, the more we know and understand Him and all His ways. We believe with every breath that when we reach that finish line, at that point we will see Him as He truly is, with the same clarity with which He has seen us all along (1 John 3:2).
Just as I confidently clean my windows in spite of my limited vision,  so I am made pure by the hope that I will one day understand and know everything there is to know about my Lord (1 John 3:3).
That's faith.